Notice of CDIC's 2023 Annual Public Meeting: "Protecting the Financial Future of Depositors"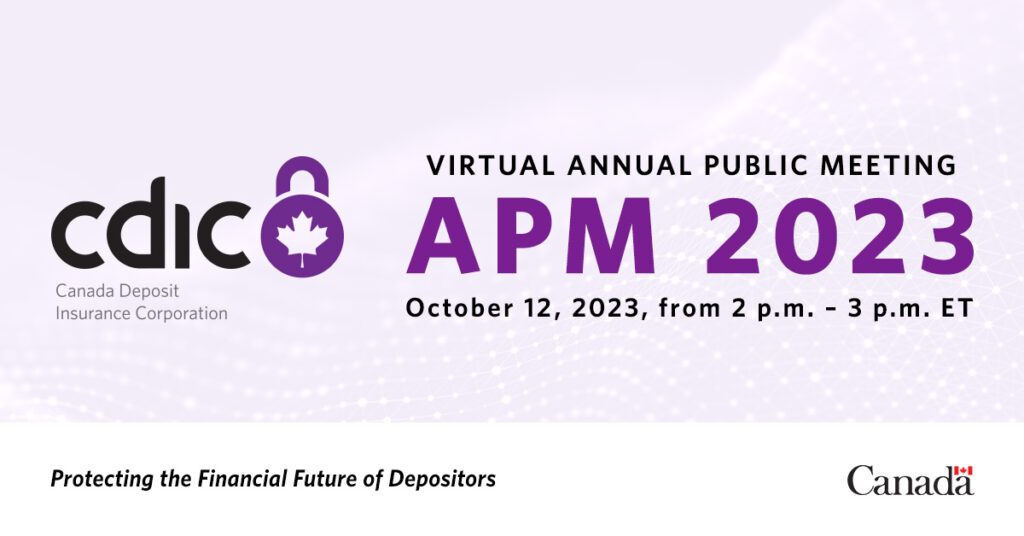 The Board of Directors of the Canada Deposit Insurance Corporation (CDIC) is pleased to announce that its 2023 Annual Public Meeting will be held via live bilingual webcast on October 12, 2023, from 2 p.m. to 3:00 p.m. ET.
Leah Anderson, President and Chief Executive Officer, and Robert Sanderson, Chair of the Board, will discuss how CDIC is protecting depositors and promoting financial stability through deposit insurance protection and resolution preparedness in a complex and dynamic financial environment.
Members of the public are invited to participate and ask questions live or in advance by e-mailing smenquiries@cdic.ca, or by sending a tweet or direct message to @CDIC_CA in English or @SADC_CA in French.
We look forward to having you join us. Follow us on Meta, X (Twitter), Instagram and LinkedIn for regular updates.
Event Details
The event will take place via live webcast on October 12, 2023, from 2:00 p.m. to 3:00 p.m. ET.
Register for the webcast
October 12, 2023, from 2 p.m. to 3:00 p.m. ET