Careers
Want to be part of something BIG?
We are a passionate and deeply committed organization driven by purpose: protecting the hard-earned savings of Canadians when it matters most.
At CDIC, we offer you the chance to contribute to Canada's financial safety net, working alongside highly skilled professionals from a variety of disciplines, with one common goal: serving Canadians as one. It is more than just a job – it is about using your skills and expertise to make a difference in everyday Canadians' financial well-being and taking pride in being part of something that is bigger than yourself.
Make your best career decision and join our team. We can't wait to meet you!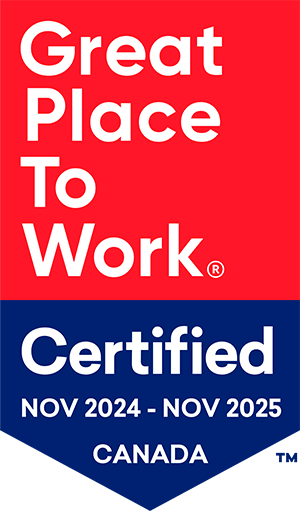 CDIC is proud to be certified as a Great Place to Work® by Great Place to Work Institute® Canada. This certification is based on direct feedback from employees, provided as part of an extensive and anonymous survey about their workplace experience.
Our people
Our people are what makes CDIC successful, they're at the foundation of everything we do.
Our teams are a bunch of bright minds working together, sharing ideas, learning from mistakes and having a few laughs along the way.
What sets us apart is our collective commitment to serving Canadians through our collaborative and supportive approach toward each other, our work and our community.
Don't only take our word for it - take it from them!
Integrity is fundamental to who I am and CDIC reflects the values that I identify with: we want to do what's best, and, most importantly, we want to do what's right. That's very important to me."
At CDIC, I appreciate that everyone has an "open-door" policy. Both staff and leadership build a culture that is inclusive and sees the bigger picture. By frequently reaching out for our feedback, leaders are committed to understanding what is top of mind for employees. "
I plan to retire in the next few years thanks to the benefits CDIC offers its employees. Having a pension plan with retiree benefits is something that provides me peace of mind."
Our culture
We care about what's important to our people because they're important to us.
Our culture can best be described through our promises and commitments we make to each other and demonstrate through our work. Summed up, we are dedicated to conducting ourselves with integrity, transparency and respect for all. We take pride in our work and we foster safe, inclusive environments that create the space to be our whole selves and do our best work. Our employees can feel comfortable being bold and creative because our mistakes are opportunities to learn. We hold each other accountable towards achieving our common goal - serving Canadians as one.
Our promises & commitments
Diversity and Inclusion
We invite you to bring your whole self to work each day - all your passion, creativity, integrity and uniqueness. We are intentional in attracting, developing and retaining a diverse workforce. At CDIC we are proud that our team truly represents the incredible diversity of the country we serve and makes us a better organization as a result. We value our differences because we know that diversity makes us stronger and this is a strength we openly celebrate.


Community and Sustainability
We use our skills and passion to give back to our communities where we live, work and play. We encourage our employees to take time to volunteer at their local schools, community food banks and favourite charities.
We support and encourage environmental stewardship in our day-to-day work life by leasing office space in award-winning sustainable buildings, actively participating in waste reduction programs and encouraging remote working and public transportation to reduce our carbon footprint.
Wellness
At CDIC, we stand by putting our people first and we know that wellness is about both your physical and emotional well-being. Maintaining good health is important for everyone but it is also very personal, and we've got you covered! We provide a broad range of services to promote good physical and mental health including: Employee Assistance Services, ergonomics support, access to a virtual doctor, flexible work, mental health training and wellness workshops. Helping you stay healthy keeps us healthy too!
Learning and Development
At our core we are people driven and at CDIC we believe that our people are our greatest assets and the key to our collective success. Valuing our people is why learning and development is a top priority. We are committed to investing in you and nurturing continuous learning and development so that every employee can achieve excellence.
Our rewards
Flexibility
We offer you the chance to work how and where you want by providing a suite of tools and supports, like flexible hours and teleworking, so you can achieve your objectives in a way that suits for you. We trust you will get things done and be happier doing so when you have balance between your work and homelife.
Growth
We help you to grow professionally and personally to stay agile in an ever-changing world. We make sure our employees have learning and development opportunities and the chance to apply their new learning on the job. We want you to be exceptional in your role and land that next great opportunity whether internally or externally.
Compensation & Benefits
Our compensation packages include competitive base salary, performance-based incentives, insurance/medical/dental benefits, generous vacation time and a variety of paid leave and unpaid leave options along with a defined benefit pension plan.
Health & Wellness
We offer a variety of health and wellness programs to support the diverse needs of our employees.
Read our latest news stories