CDIC knows that when Canadians are informed about deposit protection, they are more confident in their financial decisions and in the financial system overall. To that end, we use a number of tools and platforms to reach and inform as many Canadians as possible. By partnering with our member institutions, having a presence on social media and using traditional forms of advertising, we are working hard to ensure that Canadians have access to the information they need to understand deposit protection.
Here's a look at our activities:
Member institutions
We work with our member institutions to inform depositors about CDIC deposit protection because most Canadians prefer to get their information from their financial institutions. The Deposit Insurance Information By-Law requires that all CDIC member institutions display the CDIC membership sign in the entrance to their place of business. This sign lets customers and depositors know that the establishment they are conducting their business in is in fact a member of CDIC.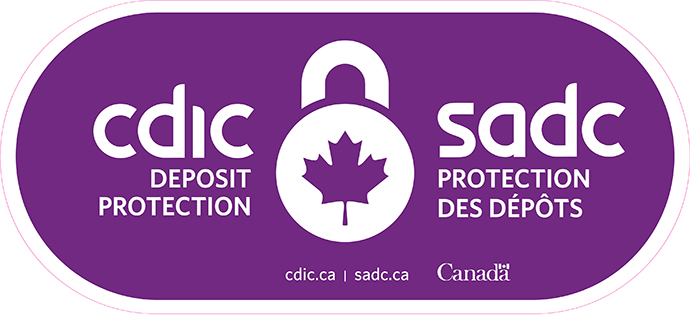 The By-Law also stipulates that, in all CDIC member branches, the deposit insurance brochure "Protecting your deposits" must be on prominent display and available for clients to take home. Additional member requirements under the By-Law include displaying a CDIC membership badge on their website, linking to an electronic version of "Protecting your deposits" and more. The next time you're on your bank's website or in a branch, be sure to look for CDIC information.

Download Protecting Your Deposits brochure (PDF, 388 KB)
Social media
CDIC uses social media tools to engage directly with Canadians for real-time updates and information on deposit insurance. We can be found on Facebook, Twitter, LinkedIn and YouTube. We use these channels to share information, post updates to our membership or relevant legislation, and to promote CDIC's great online tools and resources to help with your financial planning. You can find our social media efforts here.
Please note that by clicking on the above links you are leaving CDIC's Web site and being directed to a non-CDIC Web site that may have different privacy policies from CDIC. Once you leave CDIC's Web site, you are subject to the privacy policies of the new Web site. CDIC is not responsible for the privacy practices or content of any non-CDIC Web sites, and such links are not intended to be an endorsement by CDIC of the non-CDIC Web site. We encourage you to read carefully the privacy policy of any Web site that you visit.
Note: Some of the hyperlinks provided are to sites of organizations or other entities that are not subject to the Official Languages Act. The material found there is therefore in the language(s) used by the sites in question.
Traditional and digital advertising
We know that all Canadians are different, and we don't all manage our personal finances in the same way or spend time on social media. For that reason, we also use traditional forms of advertising to inform Canadians about CDIC. You can find CDIC ads on national television, on your commute, and on digital platforms like Google, Bing and YouTube.