Financial Literacy Month at CDIC
November marks Financial Literacy Month in Canada. During this time, Canadians are invited to strengthen their financial knowledge and join the conversation on social media using the hashtag #FLM2019.
Financial literacy is critical for the financial well-being of Canadians. In that spirit, CDIC has launched various online games to raise awareness about the importance of financial literacy for Canadians in all walks of life.
Equipped with CDIC information and relevant financial wellness content, our financial literacy contests are a series of fun and free games to challenge financial consumers to consider their financial wellness.
Our objective is to promote financial wellbeing and increase Canadians' awareness of CDIC deposit protection, while rewarding their participation in an incentivized approach. Moreover, we have teamed up with our partner agencies, the Financial Consumer Agency of Canada (FCAC) and the Canada Mortgage and Housing Corporation (CMHC) to provide questions for each game.
CDIC is pleased to have launched these engaging games while forging fruitful partnerships with member institutions and the Canadian football community:
CDIC's Would You Rather? Financial Challenge
CDIC Financial Literacy Game in partnership with the Canadian Football League (CFL)
A number of games in partnership with member institutions
Would You Rather? Financial Challenge
The online game, running from November 6 to December 18, was created to help Canadians reinforce their financial knowledge. This year, the theme "Take charge of your finances" encourages consumers to make a budget, have a savings and debt reduction plan, and understand their financial rights and responsibilities. Consumers will answer questions that correspond with their own preferences, then find out where their choices stand with the rest of Canada. CDIC will be giving away up to $10,000 in travel vouchers to the winners.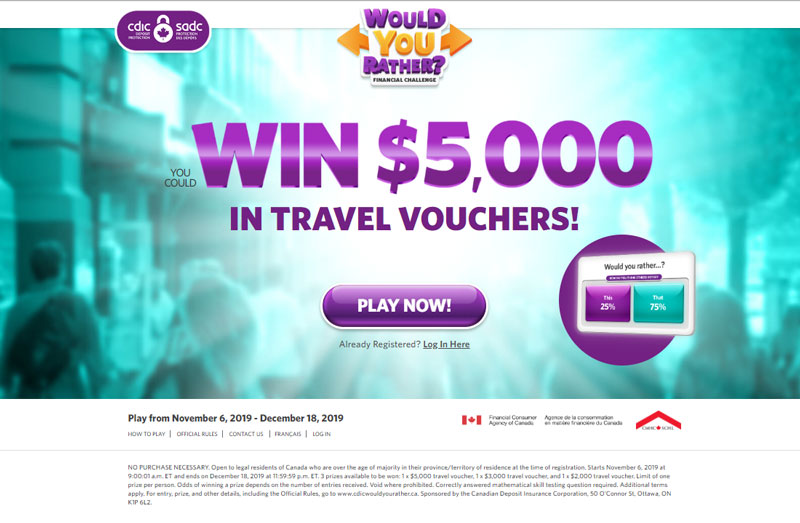 Play Would You Rather? Financial Challenge
CDIC's Financial Literacy game: A partnership with the CFL
CDIC has partnered with the Canadian Football League (CFL) in an online financial literacy game that promotes financial literacy. As the CFL playoffs happen during financial literacy month, CDIC jumped on the opportunity to create a partnership that would provide national amplification and increase our public awareness levels from coast to coast to coast. In addition to the game, CDIC is partnering with the CFL during playoff season. The CFL edition runs from November 6, and closes on November 25th, the day after the Grey Cup. As for prizes, CDIC is giving away five pairs of 2020 season tickets.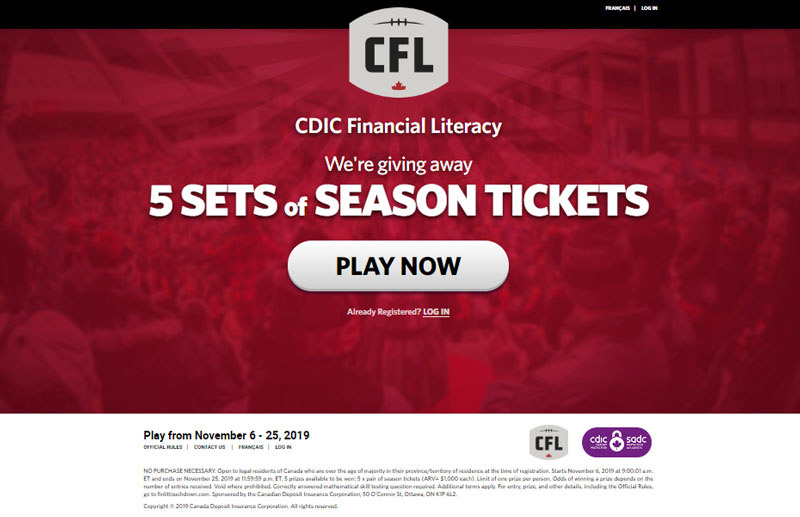 CDIC Financial Literacy Game in partnership with the CFL
Financial Literacy Challenge in partnership with CDIC member institutions
We have adapted our previous game build, CDIC's Rain or Shine Financial Challenge, to accommodate CDIC's member institutions. As financial institutions hold the trust of depositors, we wanted to leverage their direct line of contact. Five member institutions are currently taking part in this project and have made the game available to their clients. Each game is co-branded with CDIC and includes questions from the member institution. The games run during November and December, with other member institution games launching in the new year.
Over the coming weeks, Canadians will have access to these games to use as fun and engaging educational tools on financial literacy and deposit protection. To learn more or to partner with CDIC, please contact Kristine Henry at khenry@cdic.ca.